---
Amplified Bible, Classic Edition
10 Woe to those [judges] who issue unrighteous decrees, and to the magistrates who keep causing unjust and oppressive decisions to be recorded,
2 To turn aside the needy from justice and to make plunder of the rightful claims of the poor of My people, that widows may be their spoil, and that they may make the fatherless their prey!
3 And what will you do in the day of visitation [of God's wrath], and in the desolation which shall come from afar? To whom will you flee for help? And where will you deposit [for safekeeping] your wealth and with whom leave your glory?
Read full chapter
New International Version
10 Woe(A) to those who make unjust laws,
to those who issue oppressive decrees,(B)
2 to deprive(C) the poor of their rights
and withhold justice from the oppressed of my people,(D)
making widows their prey
and robbing the fatherless.(E)
3 What will you do on the day of reckoning,(F)
when disaster(G) comes from afar?
To whom will you run for help?(H)
Where will you leave your riches?
Read full chapter
Amplified Bible, Classic Edition (AMPC)
Copyright © 1954, 1958, 1962, 1964, 1965, 1987 by The Lockman Foundation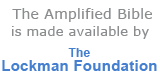 New International Version (NIV)
Holy Bible, New International Version®, NIV® Copyright ©1973, 1978, 1984, 2011 by Biblica, Inc.® Used by permission. All rights reserved worldwide.
NIV Reverse Interlinear Bible: English to Hebrew and English to Greek. Copyright © 2019 by Zondervan.