---
Amplified Bible, Classic Edition
11 Ephraim is oppressed; he is broken and crushed by [divine] judgment, because he was content to walk after idols (images) and man's [evil] command [a](vanities and filth).
12 Therefore I am like a moth to Ephraim and like dry rot to the house of Judah [in My judgment against them].
13 When Ephraim saw his sickness and Judah saw his wound, then Ephraim went to Assyria and sent to [Assyria's] great King Jareb [for help]. Yet he cannot heal you nor will he cure you of your wound [received in divine judgment].
Read full chapter
Footnotes
Hosea 5:11 "Vanities" is the rendering of The Septuagint (Greek translation of the Old Testament); "filth," the rendering of The Dead Sea Scrolls.
Amplified Bible, Classic Edition (AMPC)
Copyright © 1954, 1958, 1962, 1964, 1965, 1987 by The Lockman Foundation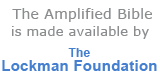 Bible Gateway Recommends
KJV and Amplified Parallel Bible, Large Print, Bonded Leather, Black
Retail: $79.99
Our Price: $47.99
Save: $32.00 (40%)

Amplified Holy Bible--bonded leather, burgundy (indexed) - Imperfectly Imprinted Bibles
Retail: $59.99
Our Price: $31.19
Save: $28.80 (48%)
Amplified Holy Bible, hardcover
Retail: $29.99
Our Price: $17.99
Save: $12.00 (40%)
Amplified Reading Bible, Hardcover
Retail: $34.99
Our Price: $20.99
Save: $14.00 (40%)
KJV and Amplified Parallel Bible, Large Print, Leathersoft, Camel/rich red
Retail: $79.99
Our Price: $47.99
Save: $32.00 (40%)

Amplified Holy Bible, softcover - Slightly Imperfect
Retail: $19.99
Our Price: $11.89
Save: $8.10 (41%)