---
Amplified Bible, Classic Edition
6 My people are destroyed for lack of knowledge; because you [the priestly nation] have rejected knowledge, I will also reject you that you shall be no priest to Me; seeing you have forgotten the law of your God, I will also forget your children.
7 The more they increased and multiplied [in prosperity and power], the more they sinned against Me; I will change their glory into shame.
8 They feed on the sin of My people and set their heart on their iniquity.
Read full chapter
Amplified Bible, Classic Edition (AMPC)
Copyright © 1954, 1958, 1962, 1964, 1965, 1987 by The Lockman Foundation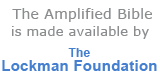 Bible Gateway Recommends
Amplified Study Bible, Hardcover
Retail: $44.99
Our Price: $27.49
Save: $17.50 (39%)
Amplified Large-Print Bible--bonded leather, burgundy
Retail: $69.99
Our Price: $41.99
Save: $28.00 (40%)
Amplified Study Bible, Large Print, Imitation Leather, Brown
Retail: $69.99
Our Price: $41.99
Save: $28.00 (40%)
Everyday Life Bible: The Power of God's Word for Everyday Living--soft leather-look, blush
Retail: $79.99
Our Price: $54.99
Save: $25.00 (31%)
KJV and Amplified Parallel Bible, Large Print, Leathersoft, Camel/rich red
Retail: $79.99
Our Price: $47.99
Save: $32.00 (40%)

Amplified Large-Print Bible, hardcover
Retail: $34.99
Our Price: $20.99
Save: $14.00 (40%)