---
Amplified Bible, Classic Edition
4 They have spoken mere words of the lips, swearing falsely in making covenants; therefore judgment springs up like hemlock [or other poisonous plants] in the furrows of the field.
5 The inhabitants of Samaria shall be in terror for the calf [idol] of Beth-aven [the house of idolatry, contemptuously meaning Bethel], for its people shall mourn over it and its [idolatrous] priests who rejoiced over it [shall tremble] for the glory of [their calf god], because it is departed from it.
6 [The golden calf] shall also be carried into Assyria as a tribute-gift to the fighting King Jareb; Ephraim shall be put to shame and Israel shall be ashamed of his own counsel [to set up calf worship and detach Israel from Judah].
Read full chapter
Amplified Bible, Classic Edition (AMPC)
Copyright © 1954, 1958, 1962, 1964, 1965, 1987 by The Lockman Foundation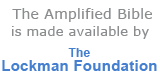 Bible Gateway Recommends
Amplified Bible, Battlefield of the Mind: Psalms and Proverbs Imitation Leather
Retail: $19.00
Our Price: $11.49
Save: $7.51 (40%)

NKJV Amplified Parallel Bible Hardcover Large Print
Retail: $39.95
Our Price: $23.99
Save: $15.96 (40%)
Classic Comparative Side-by-Side Bible (NIV, KJV, NASB, Amplified) , Bonded Leather
Retail: $89.99
Our Price: $57.99
Save: $32.00 (36%)
KJV and Amplified Parallel Bible, Large Print, Leathersoft, Camel/rich red - Slightly Imperfect
Retail: $79.99
Our Price: $42.49
Save: $37.50 (47%)
Amplified Bible - eBook
Our Price: $9.99
Amplified & NKJV Parallel Bible Bonded Leather, Black, Large Print
Retail: $69.95
Our Price: $39.99
Save: $29.96 (43%)