---
Christ Is Our High Priest
14 So then, since we have a great High Priest who has entered heaven, Jesus the Son of God, let us hold firmly to what we believe. 15 This High Priest of ours understands our weaknesses, for he faced all of the same testings we do, yet he did not sin. 16 So let us come boldly to the throne of our gracious God. There we will receive his mercy, and we will find grace to help us when we need it most.
5 Every high priest is a man chosen to represent other people in their dealings with God. He presents their gifts to God and offers sacrifices for their sins. 2 And he is able to deal gently with ignorant and wayward people because he himself is subject to the same weaknesses. 3 That is why he must offer sacrifices for his own sins as well as theirs.
4 And no one can become a high priest simply because he wants such an honor. He must be called by God for this work, just as Aaron was. 5 That is why Christ did not honor himself by assuming he could become High Priest. No, he was chosen by God, who said to him,
"You are my Son.
Today I have become your Father.[a]"
6 And in another passage God said to him,
"You are a priest forever in the order of Melchizedek."[b]
7 While Jesus was here on earth, he offered prayers and pleadings, with a loud cry and tears, to the one who could rescue him from death. And God heard his prayers because of his deep reverence for God. 8 Even though Jesus was God's Son, he learned obedience from the things he suffered. 9 In this way, God qualified him as a perfect High Priest, and he became the source of eternal salvation for all those who obey him. 10 And God designated him to be a High Priest in the order of Melchizedek.
New Living Translation (NLT)
Holy Bible, New Living Translation, copyright © 1996, 2004, 2015 by Tyndale House Foundation. Used by permission of Tyndale House Publishers, Inc., Carol Stream, Illinois 60188. All rights reserved.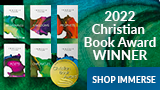 Bible Gateway Recommends
NLT Premium Gift Bible--soft leather-look, blue
Retail: $15.99
Our Price: $11.99
Save: $4.00 (25%)

NLT Giant-Print Personal-Size Bible, Filament Enabled Edition--genuine leather, brown (indexed)
Retail: $79.99
Our Price: $47.99
Save: $32.00 (40%)
My First Hands-on Bible--soft leather-look, pretty pink
Retail: $19.99
Our Price: $15.99
Save: $4.00 (20%)

NLT Giant-Print Personal-Size Bible, Filament Enabled Edition--soft leather-look, rustic brown
Retail: $29.99
Our Price: $20.99
Save: $9.00 (30%)
NLT Compact Giant Print Bible, Filament Enabled Edition (Red Letter, LeatherLike, Rose Metallic Peony, Indexed)
Retail: $44.99
Our Price: $27.99
Save: $17.00 (38%)
The NLT Spiritual Growth Bible Teal Faux Leather
Retail: $49.99
Our Price: $34.99
Save: $15.00 (30%)