---
Disciples' Literal New Testament
God's Son Perfected Forever Is a Fitting High Priest For Us
26 For such a High Priest was indeed fitting for us— holy, innocent, undefiled, having been separated[a] from sinners, and having become higher than the heavens— 27 Who does not have the daily necessity (as indeed the high priests) to be offering sacrifices first for His own sins, then the sins of the people. For He did this once-for-all, having offered Himself. 28 For the Law appoints men having weakness as high priests, but the word of the oath-swearing after[b] the Law appoints a Son having been perfected forever.
Read full chapter
Footnotes
Hebrews 7:26 That is, in character, taking this with what precedes; or, physically, to heaven, taking it with what follows.
Hebrews 7:28 That is, written after, in Ps 110.
New International Version
26 Such a high priest(A) truly meets our need—one who is holy, blameless, pure, set apart from sinners,(B) exalted above the heavens.(C) 27 Unlike the other high priests, he does not need to offer sacrifices(D) day after day, first for his own sins,(E) and then for the sins of the people. He sacrificed for their sins once for all(F) when he offered himself.(G) 28 For the law appoints as high priests men in all their weakness;(H) but the oath, which came after the law, appointed the Son,(I) who has been made perfect(J) forever.
Read full chapter
Disciples' Literal New Testament (DLNT)
Disciples' Literal New Testament: Serving Modern Disciples by More Fully Reflecting the Writing Style of the Ancient Disciples, Copyright © 2011 Michael J. Magill. All Rights Reserved. Published by Reyma Publishing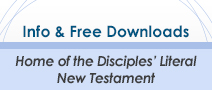 New International Version (NIV)
Holy Bible, New International Version®, NIV® Copyright ©1973, 1978, 1984, 2011 by Biblica, Inc.® Used by permission. All rights reserved worldwide.
NIV Reverse Interlinear Bible: English to Hebrew and English to Greek. Copyright © 2019 by Zondervan.