---
Amplified Bible, Classic Edition
8 But as to the Son, He says to Him, Your throne, O God, is forever and ever (to the ages of the ages), and the scepter of Your kingdom is a scepter of absolute righteousness (of justice and straightforwardness).
9 You have loved righteousness [You have delighted in integrity, virtue, and uprightness in purpose, thought, and action] and You have hated lawlessness (injustice and iniquity). Therefore God, [even] Your God ([a]Godhead), has anointed You with the oil of exultant joy and gladness above and beyond Your companions.(A)
10 And [further], You, Lord, did lay the foundation of the earth in the beginning, and the heavens are the works of Your hands.
Read full chapter
Footnotes
Hebrews 1:9 Arthur S. Way, Way's Epistles: The Letters of St. Paul to Seven Churches and Three Friends.
Amplified Bible, Classic Edition (AMPC)
Copyright © 1954, 1958, 1962, 1964, 1965, 1987 by The Lockman Foundation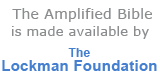 Bible Gateway Recommends
Amplified Compact Holy Bible--soft leather-look, camel/burgundy
Retail: $34.99
Our Price: $22.99
Save: $12.00 (34%)
Classic Comparative Side-by-Side Bible (NIV, KJV, NASB, Amplified) , Bonded Leather
Retail: $89.99
Our Price: $57.99
Save: $32.00 (36%)

Amplified Reading Bible, Imitation Leather, Brown, Indexed
Retail: $59.99
Our Price: $38.99
Save: $21.00 (35%)
KJV and Amplified Parallel Bible, Large Print, Bonded Leather, Black
Retail: $79.99
Our Price: $53.99
Save: $26.00 (33%)

Amplified Study Bible, Hardcover
Retail: $44.99
Our Price: $28.99
Save: $16.00 (36%)