---
16 To do good, and to distribute forget not: for with such sacrifices God is pleased.
17 [a]Obey them that have the oversight of you, and submit yourselves: for they watch for your souls, as they that must give accounts, that they may do it with joy, and not with grief: for that is unprofitable for you.
18 [b]Pray for us, for we are assured that we have a good conscience in all things, desiring to live honestly.
Read full chapter
Footnotes
Hebrews 13:17 We must obey the warnings and admonitions of our Ministers and Elders, which watch for the salvation of the souls which are committed unto them.
Hebrews 13:18 The last part of this Epistle, wherein he commendeth his ministry to the Hebrews, and wisheth them continuance and increase of graces from the Lord: and excuseth himself in that he hath used but few words to comfort them, having spent the Epistle in disputing: and saluteth certain brethren familiarly and friendly.
New International Version
16 And do not forget to do good and to share with others,(A) for with such sacrifices(B) God is pleased.
17 Have confidence in your leaders(C) and submit to their authority, because they keep watch over you(D) as those who must give an account. Do this so that their work will be a joy, not a burden, for that would be of no benefit to you.
18 Pray for us.(E) We are sure that we have a clear conscience(F) and desire to live honorably in every way.
Read full chapter
1599 Geneva Bible (GNV)
Geneva Bible, 1599 Edition. Published by Tolle Lege Press. All rights reserved. No part of this publication may be reproduced or transmitted in any form or by any means, electronic or mechanical, without written permission from the publisher, except in the case of brief quotations in articles, reviews, and broadcasts.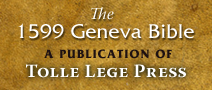 New International Version (NIV)
Holy Bible, New International Version®, NIV® Copyright ©1973, 1978, 1984, 2011 by Biblica, Inc.® Used by permission. All rights reserved worldwide.
NIV Reverse Interlinear Bible: English to Hebrew and English to Greek. Copyright © 2019 by Zondervan.