---
3 (A)[a]Through faith we understand that the world was ordained by the word of God, so that the things which we [b]see, are not made of things which did appear.
4 [c]By faith Abel (B)offered unto God a greater sacrifice than Cain, by (C)the which he obtained witness that he was righteous, God testifying of his gifts: by the which faith also he being dead, yet speaketh.
5 [d]By faith was (D)Enoch translated, that he should not [e]see death: neither was he found: for God had translated him: for before he was translated, he was reported of, that he had pleased God.
Read full chapter
New International Version
3 By faith we understand that the universe was formed at God's command,(A) so that what is seen was not made out of what was visible.
4 By faith Abel brought God a better offering than Cain did. By faith he was commended(B) as righteous, when God spoke well of his offerings.(C) And by faith Abel still speaks, even though he is dead.(D)
5 By faith Enoch was taken from this life, so that he did not experience death: "He could not be found, because God had taken him away."[a](E) For before he was taken, he was commended as one who pleased God.
Read full chapter
1599 Geneva Bible (GNV)
Geneva Bible, 1599 Edition. Published by Tolle Lege Press. All rights reserved. No part of this publication may be reproduced or transmitted in any form or by any means, electronic or mechanical, without written permission from the publisher, except in the case of brief quotations in articles, reviews, and broadcasts.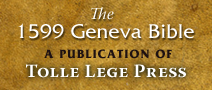 New International Version (NIV)
Holy Bible, New International Version®, NIV® Copyright ©1973, 1978, 1984, 2011 by Biblica, Inc.® Used by permission. All rights reserved worldwide.
NIV Reverse Interlinear Bible: English to Hebrew and English to Greek. Copyright © 2019 by Zondervan.