---
Contemporary English Version
10 Abraham did this, because he was waiting for the eternal city that God had planned and built.
11 Even when Sarah was too old to have children, she had faith that God would do what he had promised, and she had a son. 12 Her husband Abraham was almost dead, but he became the ancestor of many people. In fact, there are as many of them as there are stars in the sky or grains of sand along the beach.
Read full chapter
New International Version
10 For he was looking forward to the city(A) with foundations,(B) whose architect and builder is God.(C) 11 And by faith even Sarah, who was past childbearing age,(D) was enabled to bear children(E) because she[a] considered him faithful(F) who had made the promise. 12 And so from this one man, and he as good as dead,(G) came descendants as numerous as the stars in the sky and as countless as the sand on the seashore.(H)
Read full chapter
Footnotes
Hebrews 11:11 Or By faith Abraham, even though he was too old to have children—and Sarah herself was not able to conceive—was enabled to become a father because he
Contemporary English Version (CEV)
Copyright © 1995 by American Bible Society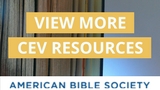 New International Version (NIV)
Holy Bible, New International Version®, NIV® Copyright ©1973, 1978, 1984, 2011 by Biblica, Inc.® Used by permission. All rights reserved worldwide.
NIV Reverse Interlinear Bible: English to Hebrew and English to Greek. Copyright © 2019 by Zondervan.