---
26 For there is no longer any sacrifice that will take away sins if we purposely go on sinning after the truth has been made known to us. 27 (A)Instead, all that is left is to wait in fear for the coming Judgment and the fierce fire which will destroy those who oppose God! 28 (B)Anyone who disobeys the Law of Moses is put to death without any mercy when judged guilty from the evidence of two or more witnesses.
Read full chapter
New International Version
26 If we deliberately keep on sinning(A) after we have received the knowledge of the truth,(B) no sacrifice for sins is left, 27 but only a fearful expectation of judgment and of raging fire(C) that will consume the enemies of God. 28 Anyone who rejected the law of Moses died without mercy on the testimony of two or three witnesses.(D)
Read full chapter
Good News Translation (GNT)
Copyright © 1992 by American Bible Society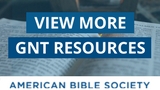 New International Version (NIV)
Holy Bible, New International Version®, NIV® Copyright ©1973, 1978, 1984, 2011 by Biblica, Inc.® Used by permission. All rights reserved worldwide.
NIV Reverse Interlinear Bible: English to Hebrew and English to Greek. Copyright © 2019 by Zondervan.