---
Amplified Bible, Classic Edition
3 Why do You show me iniquity and wrong, and Yourself look upon or cause me to see perverseness and trouble? For destruction and violence are before me; and there is strife, and contention arises.
4 Therefore the law is slackened and justice and a righteous sentence never go forth, for the [hostility of the] wicked surrounds the [uncompromisingly] righteous; therefore justice goes forth perverted.
5 Look around [you, Habakkuk, replied the Lord] among the nations and see! And be astonished! Astounded! For I am putting into effect a work in your days [such] that you would not believe it if it were told you.(A)
Read full chapter
New International Version
3 Why do you make me look at injustice?
Why do you tolerate(A) wrongdoing?(B)
Destruction and violence(C) are before me;
there is strife,(D) and conflict abounds.
4 Therefore the law(E) is paralyzed,
and justice never prevails.
The wicked hem in the righteous,
so that justice(F) is perverted.(G)
The Lord's Answer
5 "Look at the nations and watch—
and be utterly amazed.(H)
For I am going to do something in your days
that you would not believe,
even if you were told.(I)
Read full chapter
Amplified Bible, Classic Edition (AMPC)
Copyright © 1954, 1958, 1962, 1964, 1965, 1987 by The Lockman Foundation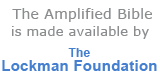 New International Version (NIV)
Holy Bible, New International Version®, NIV® Copyright ©1973, 1978, 1984, 2011 by Biblica, Inc.® Used by permission. All rights reserved worldwide.
NIV Reverse Interlinear Bible: English to Hebrew and English to Greek. Copyright © 2019 by Zondervan.