---
The Birth of Isaac
21 The Lord kept his word and did for Sarah exactly what he had promised. 2 She became pregnant, and she gave birth to a son for Abraham in his old age. This happened at just the time God had said it would. 3 And Abraham named their son Isaac. 4 Eight days after Isaac was born, Abraham circumcised him as God had commanded. 5 Abraham was 100 years old when Isaac was born.
6 And Sarah declared, "God has brought me laughter.[a] All who hear about this will laugh with me. 7 Who would have said to Abraham that Sarah would nurse a baby? Yet I have given Abraham a son in his old age!"
Read full chapter
Footnotes
21:6 The name Isaac means "he laughs."
Nueva Traducción Viviente
Nacimiento de Isaac
21 El Señor cumplió su palabra e hizo con Sara exactamente lo que había prometido. 2 Ella quedó embarazada y dio a luz un hijo a Abraham en su vejez. Esto ocurrió justo en el tiempo que Dios dijo que pasaría. 3 Y Abraham le puso por nombre a su hijo, Isaac. 4 Ocho días después del nacimiento, Abraham circuncidó a Isaac, tal como Dios había ordenado. 5 Abraham tenía cien años de edad cuando nació Isaac.
6 Sara declaró: «Dios me hizo reír.[a] Todos los que se enteren de lo que sucedió se reirán conmigo. 7 ¿Quién le hubiera dicho a Abraham que Sara amamantaría a un bebé? Sin embargo, ¡le he dado a Abraham un hijo en su vejez!».
Read full chapter
Footnotes
21:6 El nombre Isaac significa «él ríe».
New Living Translation (NLT)
Holy Bible, New Living Translation, copyright © 1996, 2004, 2015 by Tyndale House Foundation. Used by permission of Tyndale House Publishers, Inc., Carol Stream, Illinois 60188. All rights reserved.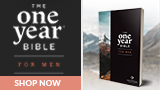 Nueva Traducción Viviente (NTV)
La Santa Biblia, Nueva Traducción Viviente, © Tyndale House Foundation, 2010. Todos los derechos reservados.