---
2 (A)He created them male and female, blessed them, and named them "Human Beings.") 3 When Adam was 130 years old, he had a son who was like him, and he named him Seth. 4 After that, Adam lived another 800 years. He had other children
Read full chapter
New International Version
2 He created them(A) male and female(B) and blessed them. And he named them "Mankind"[a] when they were created.
3 When Adam had lived 130 years, he had a son in his own likeness, in his own image;(C) and he named him Seth.(D) 4 After Seth was born, Adam lived 800 years and had other sons and daughters.
Read full chapter
Good News Translation (GNT)
Copyright © 1992 by American Bible Society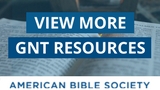 New International Version (NIV)
Holy Bible, New International Version®, NIV® Copyright ©1973, 1978, 1984, 2011 by Biblica, Inc.® Used by permission. All rights reserved worldwide.
NIV Reverse Interlinear Bible: English to Hebrew and English to Greek. Copyright © 2019 by Zondervan.