---
Amplified Bible, Classic Edition
25 By the God of your father, Who will help you, and by the Almighty, Who will bless you with blessings of the heavens above, blessings lying in the deep beneath, blessings of the breasts and of the womb.
26 The blessings of your father [on you] are greater than the blessings of my forefathers [Abraham and Isaac on me] and are as lasting as the bounties of the eternal hills; they shall be on the head of Joseph, and on the crown of the head of him who was the consecrated one and the one separated from his brethren and [the one who] is prince among them.
27 Benjamin is a [a]ravenous wolf, in the morning devouring the prey and at night dividing the spoil.
Read full chapter
Footnotes
Genesis 49:27 The tribe of Benjamin is fitly compared to a ravenous wolf because of the rude courage and ferocity which they invariably displayed, particularly in their war with the other tribes, in which they killed more men than all of their own numbers combined (Adam Clarke, The Holy Bible with A Commentary). The tribe was absorbed by the tribe of Judah and is not mentioned after the return from the Babylonian captivity, except in connection with its former land or as the source of some individual person. Ehud, Saul, Jonathan, and the apostle Paul were Benjamites.
Amplified Bible, Classic Edition (AMPC)
Copyright © 1954, 1958, 1962, 1964, 1965, 1987 by The Lockman Foundation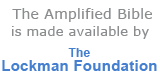 Bible Gateway Recommends
Amplified Reading Bible, Hardcover
Retail: $34.99
Our Price: $22.99
Save: $12.00 (34%)
Amplified Study Bible, Large Print, Imitation Leather, Brown
Retail: $69.99
Our Price: $43.49
Save: $26.50 (38%)
Amplified Thinline Holy Bible--bonded leather, burgundy
Retail: $49.99
Our Price: $31.99
Save: $18.00 (36%)
Classic Comparative Side-by-Side Bible (NIV, KJV, NASB, Amplified)
Retail: $54.99
Our Price: $35.99
Save: $19.00 (35%)

Battlefield of the Mind New Testament--soft leather-look, arcadia blue
Retail: $24.99
Our Price: $17.49
Save: $7.50 (30%)

Amplified Bible, Battlefield of the Mind: Psalms and Proverbs Imitation Leather
Retail: $19.00
Our Price: $13.49
Save: $5.51 (29%)