---
Amplified Bible, Classic Edition
20 Asher's food [supply] shall be rich and fat, and he shall yield and deliver royal delights.
21 Naphtali is a hind let loose which yields lovely fawns.
22 Joseph is a fruitful bough, a fruitful bough by a well (spring or fountain), whose branches run over the wall.
Read full chapter
New International Version
Amplified Bible, Classic Edition (AMPC)
Copyright © 1954, 1958, 1962, 1964, 1965, 1987 by The Lockman Foundation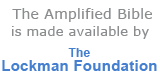 New International Version (NIV)
Holy Bible, New International Version®, NIV® Copyright ©1973, 1978, 1984, 2011 by Biblica, Inc.® Used by permission. All rights reserved worldwide.
NIV Reverse Interlinear Bible: English to Hebrew and English to Greek. Copyright © 2019 by Zondervan.