---
Amplified Bible, Classic Edition
24 At [harvest time when you reap] the increase, you shall give one-fifth of it to Pharaoh, and four-fifths shall be your own to use for seed for the field and as food for you and those of your households and for your little ones.
25 And they said, You have saved our lives! Let us find favor in the sight of my lord; and we will be Pharaoh's servants.
26 And Joseph made it a law over the land of Egypt—to this day—that Pharaoh should have the fifth part [of the crops]; it was the priests' land only which did not become Pharaoh's.
Read full chapter
Amplified Bible, Classic Edition (AMPC)
Copyright © 1954, 1958, 1962, 1964, 1965, 1987 by The Lockman Foundation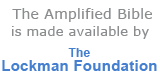 Bible Gateway Recommends
Amplified Outreach Bible, Paperback
Retail: $6.99
Our Price: $3.99
Save: $3.00 (43%)

Everyday Life Bible: The Power Of God's Word For Everyday Living, Imitation Leather, pewter
Retail: $79.99
Our Price: $53.99
Save: $26.00 (33%)
Classic Comparative Side-by-Side Bible (NIV, KJV, NASB, Amplified) , Bonded Leather
Retail: $89.99
Our Price: $52.99
Save: $37.00 (41%)

NKJV Amplified Parallel Large-Print Bible Flexisoft, Blue/Brown
Retail: $79.95
Our Price: $46.99
Save: $32.96 (41%)

Everyday Life Bible: The Power Of God's Word For Everyday Living, Imitation Leather, pink
Retail: $79.99
Our Price: $53.99
Save: $26.00 (33%)
Amplified Cross-Reference Bible - eBook
Our Price: $9.99