---
8 Now then you sent not me hither, but [a]God, who hath made me a father unto Pharaoh, and lord of all his house, and ruler throughout all the land of Egypt.
9 Haste you and go up to my father, and tell him, Thus saith thy son Joseph, God hath made me lord of all Egypt: come down to me, tarry not.
10 And thou shalt dwell in the land of Goshen, and shalt be near me, thou and thy children, and thy children's children, and thy sheep, and thy beasts, and all that thou hast.
Read full chapter
Footnotes
Genesis 45:8 Albeit God detest sin, yet he turneth man's wickedness to serve to his glory.
New International Version
8 "So then, it was not you who sent me here, but God.(A) He made me father(B) to Pharaoh, lord of his entire household and ruler of all Egypt.(C) 9 Now hurry(D) back to my father and say to him, 'This is what your son Joseph says: God has made me lord of all Egypt. Come down to me; don't delay.(E) 10 You shall live in the region of Goshen(F) and be near me—you, your children and grandchildren, your flocks and herds, and all you have.(G)
Read full chapter
1599 Geneva Bible (GNV)
Geneva Bible, 1599 Edition. Published by Tolle Lege Press. All rights reserved. No part of this publication may be reproduced or transmitted in any form or by any means, electronic or mechanical, without written permission from the publisher, except in the case of brief quotations in articles, reviews, and broadcasts.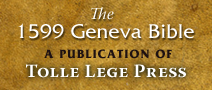 New International Version (NIV)
Holy Bible, New International Version®, NIV® Copyright ©1973, 1978, 1984, 2011 by Biblica, Inc.® Used by permission. All rights reserved worldwide.
NIV Reverse Interlinear Bible: English to Hebrew and English to Greek. Copyright © 2019 by Zondervan.