---
Contemporary English Version
6 Joseph said, "Let me tell you about my dream. 7 We were out in the field, tying up bundles of wheat. Suddenly my bundle stood up, and your bundles gathered around and bowed down to it."
8 His brothers asked, "Do you really think you are going to be king and rule over us?" Now they hated Joseph more than ever because of what he had said about his dream.
Read full chapter
New International Version
6 He said to them, "Listen to this dream I had: 7 We were binding sheaves(A) of grain out in the field when suddenly my sheaf rose and stood upright, while your sheaves gathered around mine and bowed down to it."(B)
8 His brothers said to him, "Do you intend to reign over us? Will you actually rule us?"(C) And they hated him all the more(D) because of his dream and what he had said.
Read full chapter
Contemporary English Version (CEV)
Copyright © 1995 by American Bible Society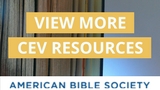 New International Version (NIV)
Holy Bible, New International Version®, NIV® Copyright ©1973, 1978, 1984, 2011 by Biblica, Inc.® Used by permission. All rights reserved worldwide.
NIV Reverse Interlinear Bible: English to Hebrew and English to Greek. Copyright © 2019 by Zondervan.