---
Amplified Bible, Classic Edition
9 And make marriages with us and give your daughters to us and take our daughters to you.
10 You shall dwell with us; the country will be open to you; live and trade and get your possessions in it.
11 And Shechem said to [Dinah's] father and to her brothers, Let me find favor in your eyes, and I will give you whatever you ask of me.
Read full chapter
Amplified Bible, Classic Edition (AMPC)
Copyright © 1954, 1958, 1962, 1964, 1965, 1987 by The Lockman Foundation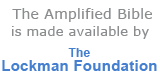 Bible Gateway Recommends
The Everyday Life Bible, Bonded Leather Bold Pink with Espresso Inset
Retail: $65.00
Our Price: $37.99
Save: $27.01 (42%)

Large Print leather-look, brown/dark brown--indexed
Retail: $79.99
Our Price: $41.99
Save: $38.00 (48%)
KJV and Amplified Parallel Bible, Large Print, Leathersoft, Camel/rich red
Retail: $79.99
Our Price: $43.49
Save: $36.50 (46%)

KJV and Amplified Parallel Bible, Large Print, Bonded Leather, Black
Retail: $79.99
Our Price: $52.99
Save: $27.00 (34%)

Classic Comparative Side-by-Side Bible (NIV, KJV, NASB, Amplified) , Bonded Leather
Retail: $89.99
Our Price: $57.99
Save: $32.00 (36%)
NKJV Amplified Parallel Large-Print Bible Flexisoft, Blue/Brown
Retail: $79.95
Our Price: $46.99
Save: $32.96 (41%)