---
29 I am [a]able to do you evil: but the [b]God of your father spake unto me yesternight, saying, Take heed that thou speak not to Jacob ought save good.
30 Now though thou wentest thy way, because thou greatly longedst after thy father's house, yet wherefore hast thou stolen my gods?
31 Then Jacob answered, and said to Laban, Because I was afraid, and thought that thou wouldest have taken thy daughters from me.
Read full chapter
Footnotes
Genesis 31:29 Hebrew, power is in mine hand.
Genesis 31:29 He was an Idolater, and therefore would not acknowledge the God of Jacob for his God.
New International Version
29 I have the power to harm you;(A) but last night the God of your father(B) said to me, 'Be careful not to say anything to Jacob, either good or bad.'(C) 30 Now you have gone off because you longed to return to your father's household.(D) But why did you steal(E) my gods?(F)"
31 Jacob answered Laban, "I was afraid, because I thought you would take your daughters away from me by force.(G)
Read full chapter
1599 Geneva Bible (GNV)
Geneva Bible, 1599 Edition. Published by Tolle Lege Press. All rights reserved. No part of this publication may be reproduced or transmitted in any form or by any means, electronic or mechanical, without written permission from the publisher, except in the case of brief quotations in articles, reviews, and broadcasts.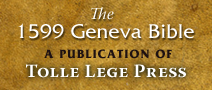 New International Version (NIV)
Holy Bible, New International Version®, NIV® Copyright ©1973, 1978, 1984, 2011 by Biblica, Inc.® Used by permission. All rights reserved worldwide.
NIV Reverse Interlinear Bible: English to Hebrew and English to Greek. Copyright © 2019 by Zondervan.