---
Amplified Bible, Classic Edition
23 And [now for the first time] she became pregnant and bore a son; and she said, God has taken away my reproach, disgrace, and humiliation.
24 And she called his name Joseph [may he add] and said, May the Lord add to me another son.
25 When Rachel had borne Joseph, Jacob said to Laban, Send me away, that I may go to my own place and country.
Read full chapter
Amplified Bible, Classic Edition (AMPC)
Copyright © 1954, 1958, 1962, 1964, 1965, 1987 by The Lockman Foundation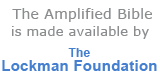 Bible Gateway Recommends
KJV and Amplified Parallel Bible, Large Print, Bonded Leather, Black
Retail: $79.99
Our Price: $47.99
Save: $32.00 (40%)
Battlefield of the Mind Bible: Renew Your Mind Through the Power of God's Word, Imitation Leather, pink
Retail: $79.99
Our Price: $54.99
Save: $25.00 (31%)
Amplified Compact Holy Bible, hardcover
Retail: $19.99
Our Price: $8.99
Save: $11.00 (55%)
KJV and Amplified Parallel Bible, Large Print, Hardcover
Retail: $49.99
Our Price: $29.99
Save: $20.00 (40%)
Amplified Holy Bible, XL Edition--soft leather-look, burgundy
Retail: $49.99
Our Price: $31.99
Save: $18.00 (36%)
Amplified Holy Bible, softcover
Retail: $19.99
Our Price: $11.99
Save: $8.00 (40%)