---
Contemporary English Version
9 So the servant gave Abraham his word that he would do everything he had been told to do.
10 Soon after that, the servant loaded ten of Abraham's camels with valuable gifts. Then he set out for the city in northern Syria,[a] where Abraham's brother Nahor lived.
11 When he got there, he let the camels rest near the well outside the city. It was late afternoon, the time when the women came out for water.
Read full chapter
Footnotes
24.10 northern Syria: The Hebrew text has "Aram-Naharaim," probably referring to the land around the city of Haran (see also "Paddan-Aram" in 25.20; 28.2,6; 31.18,20; 33.18; 35.23-26; 46.8-15; and "Paddan" in 48.7).
New International Version
9 So the servant put his hand under the thigh(A) of his master(B) Abraham and swore an oath to him concerning this matter.
10 Then the servant left, taking with him ten of his master's camels(C) loaded with all kinds of good things(D) from his master. He set out for Aram Naharaim[a](E) and made his way to the town of Nahor.(F) 11 He had the camels kneel down near the well(G) outside the town; it was toward evening, the time the women go out to draw water.(H)
Read full chapter
Contemporary English Version (CEV)
Copyright © 1995 by American Bible Society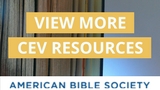 New International Version (NIV)
Holy Bible, New International Version®, NIV® Copyright ©1973, 1978, 1984, 2011 by Biblica, Inc.® Used by permission. All rights reserved worldwide.
NIV Reverse Interlinear Bible: English to Hebrew and English to Greek. Copyright © 2019 by Zondervan.