---
13 Then she called the name of the Lord that spake unto her, Thou God lookest on me: for she said, [a]Have I not also here looked after him that seeth me?
Read full chapter
Footnotes
Genesis 16:13 She rebuketh her own dullness and acknowledgeth God's graces, who was present with her everywhere.
New International Version
13 She gave this name to the Lord who spoke to her: "You are the God who sees me,(A)" for she said, "I have now seen[a] the One who sees me."(B)
Read full chapter
1599 Geneva Bible (GNV)
Geneva Bible, 1599 Edition. Published by Tolle Lege Press. All rights reserved. No part of this publication may be reproduced or transmitted in any form or by any means, electronic or mechanical, without written permission from the publisher, except in the case of brief quotations in articles, reviews, and broadcasts.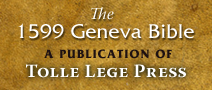 New International Version (NIV)
Holy Bible, New International Version®, NIV® Copyright ©1973, 1978, 1984, 2011 by Biblica, Inc.® Used by permission. All rights reserved worldwide.
NIV Reverse Interlinear Bible: English to Hebrew and English to Greek. Copyright © 2019 by Zondervan.