---
8 "Judah, your brothers will praise you.
You will grasp your enemies by the neck.
All your relatives will bow before you.
9 Judah, my son, is a young lion
that has finished eating its prey.
Like a lion he crouches and lies down;
like a lioness—who dares to rouse him?
10 The scepter will not depart from Judah,
nor the ruler's staff from his descendants,[a]
until the coming of the one to whom it belongs,[b]
the one whom all nations will honor.
11 He ties his foal to a grapevine,
the colt of his donkey to a choice vine.
He washes his clothes in wine,
his robes in the blood of grapes.
12 His eyes are darker than wine,
and his teeth are whiter than milk.
13 "Zebulun will settle by the seashore
and will be a harbor for ships;
his borders will extend to Sidon.
14 "Issachar is a sturdy donkey,
resting between two saddlepacks.[c]
15 When he sees how good the countryside is
and how pleasant the land,
he will bend his shoulder to the load
and submit himself to hard labor.
16 "Dan will govern his people,
like any other tribe in Israel.
17 Dan will be a snake beside the road,
a poisonous viper along the path
that bites the horse's hooves
so its rider is thrown off.
18 I trust in you for salvation, O Lord!
19 "Gad will be attacked by marauding bands,
but he will attack them when they retreat.
20 "Asher will dine on rich foods
and produce food fit for kings.
21 "Naphtali is a doe set free
that bears beautiful fawns.
Read full chapter
Hope in the Messiah
9 [a]Nevertheless, that time of darkness and despair will not go on forever. The land of Zebulun and Naphtali will be humbled, but there will be a time in the future when Galilee of the Gentiles, which lies along the road that runs between the Jordan and the sea, will be filled with glory.
Read full chapter
Footnotes
9:1 Verse 9:1 is numbered 8:23 in Hebrew text.
13 He went first to Nazareth, then left there and moved to Capernaum, beside the Sea of Galilee, in the region of Zebulun and Naphtali. 14 This fulfilled what God said through the prophet Isaiah:
15 "In the land of Zebulun and of Naphtali,
beside the sea, beyond the Jordan River,
in Galilee where so many Gentiles live,
16 the people who sat in darkness
have seen a great light.
And for those who lived in the land where death casts its shadow,
a light has shined."[a]
Read full chapter
New Living Translation (NLT)
Holy Bible, New Living Translation, copyright © 1996, 2004, 2015 by Tyndale House Foundation. Used by permission of Tyndale House Publishers, Inc., Carol Stream, Illinois 60188. All rights reserved.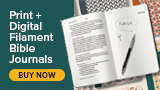 Bible Gateway Recommends
NLT Large-Print Premium Value Thinline Bible, Filament Enabled Edition--soft leather-look, teal
Retail: $22.99
Our Price: $18.99
Save: $4.00 (17%)

NLT Giant-Print Personal-Size Bible, Filament Enabled Edition--soft leather-look, floral frame teal
Retail: $39.99
Our Price: $22.99
Save: $17.00 (43%)

NLT Life Application Large-Print Study Bible, Third Edition--soft leather-look, brown, mahogan, red letter (indexed)
Retail: $94.99
Our Price: $61.99
Save: $33.00 (35%)

NLT Chronological Life Application Study Bible, Hardcover
Retail: $59.99
Our Price: $47.99
Save: $12.00 (20%)

My First Hands-on Bible--soft leather-look, bold blue
Retail: $19.99
Our Price: $15.99
Save: $4.00 (20%)
NLT Premium Gift Bible Imitation Leather, purple petals
Retail: $15.99
Our Price: $11.99
Save: $4.00 (25%)