---
Amplified Bible, Classic Edition
15 What has become of that blessed enjoyment and satisfaction and self-congratulation that once was yours [in what I taught you and in your regard for me]? For I bear you witness that you would have torn out your own eyes and have given them to me [to replace mine], if that were possible.
16 Have I then become your enemy by telling the truth to you and dealing sincerely with you?
17 These men [the Judaizing teachers] are zealously trying to dazzle you [paying court to you, making much of you], but their purpose is not honorable or worthy or for any good. What they want to do is to isolate you [from us who oppose them], so that they may win you over to their side and get you to court their favor.
Read full chapter
Amplified Bible, Classic Edition (AMPC)
Copyright © 1954, 1958, 1962, 1964, 1965, 1987 by The Lockman Foundation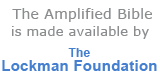 Bible Gateway Recommends
Amplified Topical Reference Bible, Bonded Leather, Black
Retail: $69.99
Our Price: $32.99
Save: $37.00 (53%)

Amplified Reading Bible, Imitation Leather, Brown
Retail: $49.99
Our Price: $31.99
Save: $18.00 (36%)
Amplified Study Bible, Large Print, Imitation Leather, Brown
Retail: $69.99
Our Price: $43.49
Save: $26.50 (38%)
Amplified Bible, Large Print leather-look, brown/dark brown- index
Retail: $79.99
Our Price: $52.99
Save: $27.00 (34%)

NKJV Amplified Parallel Bible Hardcover Large Print
Retail: $39.95
Our Price: $23.99
Save: $15.96 (40%)

Everyday Life Bible: The Power of God's Word for Everyday Living--soft leather-look, teal
Retail: $79.99
Our Price: $53.99
Save: $26.00 (33%)