---
13 And ye know, how through [a]infirmity of the flesh, I preached the Gospel unto you at the first.
14 And the [b]trial of me which was in my flesh, ye despised not, neither abhorred: but ye received me as an Angel of God, yea, as [c]Christ Jesus.
15 [d]What was then your felicity? for I bear you record, that if it had been possible, ye would have plucked out your own eyes, and have given them unto me.
Read full chapter
New International Version
13 As you know, it was because of an illness(A) that I first preached the gospel to you, 14 and even though my illness was a trial to you, you did not treat me with contempt or scorn. Instead, you welcomed me as if I were an angel of God, as if I were Christ Jesus himself.(B) 15 Where, then, is your blessing of me now? I can testify that, if you could have done so, you would have torn out your eyes and given them to me.
Read full chapter
1599 Geneva Bible (GNV)
Geneva Bible, 1599 Edition. Published by Tolle Lege Press. All rights reserved. No part of this publication may be reproduced or transmitted in any form or by any means, electronic or mechanical, without written permission from the publisher, except in the case of brief quotations in articles, reviews, and broadcasts.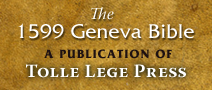 New International Version (NIV)
Holy Bible, New International Version®, NIV® Copyright ©1973, 1978, 1984, 2011 by Biblica, Inc.® Used by permission. All rights reserved worldwide.
NIV Reverse Interlinear Bible: English to Hebrew and English to Greek. Copyright © 2019 by Zondervan.