---
Disciples' Literal New Testament
13 And you know that I first[a] announced-the-good-news to you because of a weakness[b] of the flesh. 14 And you did not treat-with-contempt nor loathe your trial in-connection-with my flesh, but you welcomed me as an angel[c] of God, as Christ Jesus. 15 Where then is your blessedness[d]? For I testify concerning you that, if possible, you would have given your eyes to me, having torn them out!
Read full chapter
New International Version
13 As you know, it was because of an illness(A) that I first preached the gospel to you, 14 and even though my illness was a trial to you, you did not treat me with contempt or scorn. Instead, you welcomed me as if I were an angel of God, as if I were Christ Jesus himself.(B) 15 Where, then, is your blessing of me now? I can testify that, if you could have done so, you would have torn out your eyes and given them to me.
Read full chapter
Disciples' Literal New Testament (DLNT)
Disciples' Literal New Testament: Serving Modern Disciples by More Fully Reflecting the Writing Style of the Ancient Disciples, Copyright © 2011 Michael J. Magill. All Rights Reserved. Published by Reyma Publishing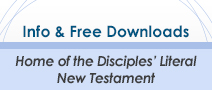 New International Version (NIV)
Holy Bible, New International Version®, NIV® Copyright ©1973, 1978, 1984, 2011 by Biblica, Inc.® Used by permission. All rights reserved worldwide.
NIV Reverse Interlinear Bible: English to Hebrew and English to Greek. Copyright © 2019 by Zondervan.