---
15 [a]Brethren, I speak as [b]men do: (A)though it be but a man's covenant, when it is [c]confirmed, yet no man doth abrogate it, or addeth anything thereto,
16 Now to Abraham and his seed were the promises made. He saith not, and to the seeds, as speaking of many: but, And to thy seed, as of one, [d]which is [e]Christ.
17 [f]And this I say, that the covenant that was confirmed afore of God [g]in respect of Christ, the [h]Law which was four hundred and thirty years after, cannot disannul, that it should make the promise of none effect.
Read full chapter
New International Version
The Law and the Promise
15 Brothers and sisters,(A) let me take an example from everyday life. Just as no one can set aside or add to a human covenant that has been duly established, so it is in this case. 16 The promises were spoken to Abraham and to his seed.(B) Scripture does not say "and to seeds," meaning many people, but "and to your seed,"[a](C) meaning one person, who is Christ. 17 What I mean is this: The law, introduced 430 years(D) later, does not set aside the covenant previously established by God and thus do away with the promise.
Read full chapter
1599 Geneva Bible (GNV)
Geneva Bible, 1599 Edition. Published by Tolle Lege Press. All rights reserved. No part of this publication may be reproduced or transmitted in any form or by any means, electronic or mechanical, without written permission from the publisher, except in the case of brief quotations in articles, reviews, and broadcasts.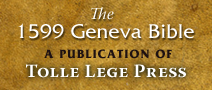 New International Version (NIV)
Holy Bible, New International Version®, NIV® Copyright ©1973, 1978, 1984, 2011 by Biblica, Inc.® Used by permission. All rights reserved worldwide.
NIV Reverse Interlinear Bible: English to Hebrew and English to Greek. Copyright © 2019 by Zondervan.