---
The Epistle of the Apostle Paul to the Galatians
1 1 Straight after the salutation, 6 He reprehendeth the Galatians for revolting, 9 from his Gospel, 15 which he received from God, 17 before he had communicated with any of the Apostles.
1 Paul [a]an Apostle (not [b]of men, neither by [c]man, (A)but by [d]Jesus Christ, and God the Father which hath raised him from the dead.)
2 And all the brethren which are with me unto the Churches of Galatia:
Read full chapter
New International Version
1 Paul, an apostle(A)—sent not from men nor by a man,(B) but by Jesus Christ(C) and God the Father,(D) who raised him from the dead(E)— 2 and all the brothers and sisters[a] with me,(F)
To the churches in Galatia:(G)
Read full chapter
Footnotes
Galatians 1:2 The Greek word for brothers and sisters (adelphoi) refers here to believers, both men and women, as part of God's family; also in verse 11; and in 3:15; 4:12, 28, 31; 5:11, 13; 6:1, 18.
1599 Geneva Bible (GNV)
Geneva Bible, 1599 Edition. Published by Tolle Lege Press. All rights reserved. No part of this publication may be reproduced or transmitted in any form or by any means, electronic or mechanical, without written permission from the publisher, except in the case of brief quotations in articles, reviews, and broadcasts.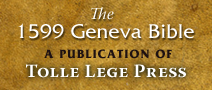 New International Version (NIV)
Holy Bible, New International Version®, NIV® Copyright ©1973, 1978, 1984, 2011 by Biblica, Inc.® Used by permission. All rights reserved worldwide.
NIV Reverse Interlinear Bible: English to Hebrew and English to Greek. Copyright © 2019 by Zondervan.