---
Joseph's Dreams
37 So Jacob settled again in the land of Canaan, where his father had lived as a foreigner.
2 This is the account of Jacob and his family. When Joseph was seventeen years old, he often tended his father's flocks. He worked for his half brothers, the sons of his father's wives Bilhah and Zilpah. But Joseph reported to his father some of the bad things his brothers were doing.
3 Jacob[a] loved Joseph more than any of his other children because Joseph had been born to him in his old age. So one day Jacob had a special gift made for Joseph—a beautiful robe.[b] 4 But his brothers hated Joseph because their father loved him more than the rest of them. They couldn't say a kind word to him.
5 One night Joseph had a dream, and when he told his brothers about it, they hated him more than ever. 6 "Listen to this dream," he said. 7 "We were out in the field, tying up bundles of grain. Suddenly my bundle stood up, and your bundles all gathered around and bowed low before mine!"
8 His brothers responded, "So you think you will be our king, do you? Do you actually think you will reign over us?" And they hated him all the more because of his dreams and the way he talked about them.
9 Soon Joseph had another dream, and again he told his brothers about it. "Listen, I have had another dream," he said. "The sun, moon, and eleven stars bowed low before me!"
10 This time he told the dream to his father as well as to his brothers, but his father scolded him. "What kind of dream is that?" he asked. "Will your mother and I and your brothers actually come and bow to the ground before you?" 11 But while his brothers were jealous of Joseph, his father wondered what the dreams meant.
12 Soon after this, Joseph's brothers went to pasture their father's flocks at Shechem. 13 When they had been gone for some time, Jacob said to Joseph, "Your brothers are pasturing the sheep at Shechem. Get ready, and I will send you to them."
"I'm ready to go," Joseph replied.
14 "Go and see how your brothers and the flocks are getting along," Jacob said. "Then come back and bring me a report." So Jacob sent him on his way, and Joseph traveled to Shechem from their home in the valley of Hebron.
15 When he arrived there, a man from the area noticed him wandering around the countryside. "What are you looking for?" he asked.
16 "I'm looking for my brothers," Joseph replied. "Do you know where they are pasturing their sheep?"
17 "Yes," the man told him. "They have moved on from here, but I heard them say, 'Let's go on to Dothan.'" So Joseph followed his brothers to Dothan and found them there.
Joseph Sold into Slavery
18 When Joseph's brothers saw him coming, they recognized him in the distance. As he approached, they made plans to kill him. 19 "Here comes the dreamer!" they said. 20 "Come on, let's kill him and throw him into one of these cisterns. We can tell our father, 'A wild animal has eaten him.' Then we'll see what becomes of his dreams!"
21 But when Reuben heard of their scheme, he came to Joseph's rescue. "Let's not kill him," he said. 22 "Why should we shed any blood? Let's just throw him into this empty cistern here in the wilderness. Then he'll die without our laying a hand on him." Reuben was secretly planning to rescue Joseph and return him to his father.
23 So when Joseph arrived, his brothers ripped off the beautiful robe he was wearing. 24 Then they grabbed him and threw him into the cistern. Now the cistern was empty; there was no water in it. 25 Then, just as they were sitting down to eat, they looked up and saw a caravan of camels in the distance coming toward them. It was a group of Ishmaelite traders taking a load of gum, balm, and aromatic resin from Gilead down to Egypt.
26 Judah said to his brothers, "What will we gain by killing our brother? We'd have to cover up the crime.[c] 27 Instead of hurting him, let's sell him to those Ishmaelite traders. After all, he is our brother—our own flesh and blood!" And his brothers agreed. 28 So when the Ishmaelites, who were Midianite traders, came by, Joseph's brothers pulled him out of the cistern and sold him to them for twenty pieces[d] of silver. And the traders took him to Egypt.
29 Some time later, Reuben returned to get Joseph out of the cistern. When he discovered that Joseph was missing, he tore his clothes in grief. 30 Then he went back to his brothers and lamented, "The boy is gone! What will I do now?"
31 Then the brothers killed a young goat and dipped Joseph's robe in its blood. 32 They sent the beautiful robe to their father with this message: "Look at what we found. Doesn't this robe belong to your son?"
33 Their father recognized it immediately. "Yes," he said, "it is my son's robe. A wild animal must have eaten him. Joseph has clearly been torn to pieces!" 34 Then Jacob tore his clothes and dressed himself in burlap. He mourned deeply for his son for a long time. 35 His family all tried to comfort him, but he refused to be comforted. "I will go to my grave[e] mourning for my son," he would say, and then he would weep.
36 Meanwhile, the Midianite traders[f] arrived in Egypt, where they sold Joseph to Potiphar, an officer of Pharaoh, the king of Egypt. Potiphar was captain of the palace guard.
Judah and Tamar
38 About this time, Judah left home and moved to Adullam, where he stayed with a man named Hirah. 2 There he saw a Canaanite woman, the daughter of Shua, and he married her. When he slept with her, 3 she became pregnant and gave birth to a son, and he named the boy Er. 4 Then she became pregnant again and gave birth to another son, and she named him Onan. 5 And when she gave birth to a third son, she named him Shelah. At the time of Shelah's birth, they were living at Kezib.
6 In the course of time, Judah arranged for his firstborn son, Er, to marry a young woman named Tamar. 7 But Er was a wicked man in the Lord's sight, so the Lord took his life. 8 Then Judah said to Er's brother Onan, "Go and marry Tamar, as our law requires of the brother of a man who has died. You must produce an heir for your brother."
9 But Onan was not willing to have a child who would not be his own heir. So whenever he had intercourse with his brother's wife, he spilled the semen on the ground. This prevented her from having a child who would belong to his brother. 10 But the Lord considered it evil for Onan to deny a child to his dead brother. So the Lord took Onan's life, too.
11 Then Judah said to Tamar, his daughter-in-law, "Go back to your parents' home and remain a widow until my son Shelah is old enough to marry you." (But Judah didn't really intend to do this because he was afraid Shelah would also die, like his two brothers.) So Tamar went back to live in her father's home.
12 Some years later Judah's wife died. After the time of mourning was over, Judah and his friend Hirah the Adullamite went up to Timnah to supervise the shearing of his sheep. 13 Someone told Tamar, "Look, your father-in-law is going up to Timnah to shear his sheep."
14 Tamar was aware that Shelah had grown up, but no arrangements had been made for her to come and marry him. So she changed out of her widow's clothing and covered herself with a veil to disguise herself. Then she sat beside the road at the entrance to the village of Enaim, which is on the road to Timnah. 15 Judah noticed her and thought she was a prostitute, since she had covered her face. 16 So he stopped and propositioned her. "Let me have sex with you," he said, not realizing that she was his own daughter-in-law.
"How much will you pay to have sex with me?" Tamar asked.
17 "I'll send you a young goat from my flock," Judah promised.
"But what will you give me to guarantee that you will send the goat?" she asked.
18 "What kind of guarantee do you want?" he replied.
She answered, "Leave me your identification seal and its cord and the walking stick you are carrying." So Judah gave them to her. Then he had intercourse with her, and she became pregnant. 19 Afterward she went back home, took off her veil, and put on her widow's clothing as usual.
20 Later Judah asked his friend Hirah the Adullamite to take the young goat to the woman and to pick up the things he had given her as his guarantee. But Hirah couldn't find her. 21 So he asked the men who lived there, "Where can I find the shrine prostitute who was sitting beside the road at the entrance to Enaim?"
"We've never had a shrine prostitute here," they replied.
22 So Hirah returned to Judah and told him, "I couldn't find her anywhere, and the men of the village claim they've never had a shrine prostitute there."
23 "Then let her keep the things I gave her," Judah said. "I sent the young goat as we agreed, but you couldn't find her. We'd be the laughingstock of the village if we went back again to look for her."
24 About three months later, Judah was told, "Tamar, your daughter-in-law, has acted like a prostitute. And now, because of this, she's pregnant."
"Bring her out, and let her be burned!" Judah demanded.
25 But as they were taking her out to kill her, she sent this message to her father-in-law: "The man who owns these things made me pregnant. Look closely. Whose seal and cord and walking stick are these?"
26 Judah recognized them immediately and said, "She is more righteous than I am, because I didn't arrange for her to marry my son Shelah." And Judah never slept with Tamar again.
27 When the time came for Tamar to give birth, it was discovered that she was carrying twins. 28 While she was in labor, one of the babies reached out his hand. The midwife grabbed it and tied a scarlet string around the child's wrist, announcing, "This one came out first." 29 But then he pulled back his hand, and out came his brother! "What!" the midwife exclaimed. "How did you break out first?" So he was named Perez.[g] 30 Then the baby with the scarlet string on his wrist was born, and he was named Zerah.[h]
Descendants of Judah
3 Judah had three sons from Bathshua, a Canaanite woman. Their names were Er, Onan, and Shelah. But the Lord saw that the oldest son, Er, was a wicked man, so he killed him. 4 Later Judah had twin sons from Tamar, his widowed daughter-in-law. Their names were Perez and Zerah. So Judah had five sons in all.
5 The sons of Perez were Hezron and Hamul.
6 The sons of Zerah were Zimri, Ethan, Heman, Calcol, and Darda[a]—five in all.
Read full chapter
Footnotes
2:6 As in many Hebrew manuscripts, some Greek manuscripts, and Syriac version (see also 1 Kgs 4:31); Hebrew reads Dara.
Joseph in Potiphar's House
39 When Joseph was taken to Egypt by the Ishmaelite traders, he was purchased by Potiphar, an Egyptian officer. Potiphar was captain of the guard for Pharaoh, the king of Egypt.
2 The Lord was with Joseph, so he succeeded in everything he did as he served in the home of his Egyptian master. 3 Potiphar noticed this and realized that the Lord was with Joseph, giving him success in everything he did. 4 This pleased Potiphar, so he soon made Joseph his personal attendant. He put him in charge of his entire household and everything he owned. 5 From the day Joseph was put in charge of his master's household and property, the Lord began to bless Potiphar's household for Joseph's sake. All his household affairs ran smoothly, and his crops and livestock flourished. 6 So Potiphar gave Joseph complete administrative responsibility over everything he owned. With Joseph there, he didn't worry about a thing—except what kind of food to eat!
Joseph was a very handsome and well-built young man, 7 and Potiphar's wife soon began to look at him lustfully. "Come and sleep with me," she demanded.
8 But Joseph refused. "Look," he told her, "my master trusts me with everything in his entire household. 9 No one here has more authority than I do. He has held back nothing from me except you, because you are his wife. How could I do such a wicked thing? It would be a great sin against God."
10 She kept putting pressure on Joseph day after day, but he refused to sleep with her, and he kept out of her way as much as possible. 11 One day, however, no one else was around when he went in to do his work. 12 She came and grabbed him by his cloak, demanding, "Come on, sleep with me!" Joseph tore himself away, but he left his cloak in her hand as he ran from the house.
13 When she saw that she was holding his cloak and he had fled, 14 she called out to her servants. Soon all the men came running. "Look!" she said. "My husband has brought this Hebrew slave here to make fools of us! He came into my room to rape me, but I screamed. 15 When he heard me scream, he ran outside and got away, but he left his cloak behind with me."
16 She kept the cloak with her until her husband came home. 17 Then she told him her story. "That Hebrew slave you've brought into our house tried to come in and fool around with me," she said. 18 "But when I screamed, he ran outside, leaving his cloak with me!"
Joseph Put in Prison
19 Potiphar was furious when he heard his wife's story about how Joseph had treated her. 20 So he took Joseph and threw him into the prison where the king's prisoners were held, and there he remained. 21 But the Lord was with Joseph in the prison and showed him his faithful love. And the Lord made Joseph a favorite with the prison warden. 22 Before long, the warden put Joseph in charge of all the other prisoners and over everything that happened in the prison. 23 The warden had no more worries, because Joseph took care of everything. The Lord was with him and caused everything he did to succeed.
Read full chapter
New Living Translation (NLT)
Holy Bible, New Living Translation, copyright © 1996, 2004, 2015 by Tyndale House Foundation. Used by permission of Tyndale House Publishers, Inc., Carol Stream, Illinois 60188. All rights reserved.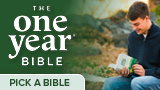 Bible Gateway Recommends
NLT Premium Value Slimline Bible Large Print, Imitiation Leather, Onyx with Crown of Thorns Design
Retail: $19.99
Our Price: $15.99
Save: $4.00 (20%)

NLT Life Application Large-Print Study Bible, Third Edition--hardcover, red letter (indexed)
Retail: $74.99
Our Price: $54.99
Save: $20.00 (27%)
NLT Giant-Print Personal-Size Bible, Filament Enabled Edition--soft leather-look, floral frame teal (indexed)
Retail: $39.99
Our Price: $29.99
Save: $10.00 (25%)
NLT Hands-On Bible, Softcover
Retail: $19.99
Our Price: $15.99
Save: $4.00 (20%)
NLT Large-Print Premium Value Thinline Bible, Filament Enabled Edition--soft leather-look, brown
Retail: $19.99
Our Price: $15.99
Save: $4.00 (20%)
My First Hands-on Bible--soft leather-look, bold blue
Retail: $19.99
Our Price: $15.99
Save: $4.00 (20%)