---
Individual Responsibility
10 The Lord spoke to me. "Mortal man," he said, "repeat to the Israelites what they are saying: 'We are burdened with our sins and the wrongs we have done. We are wasting away. How can we live?' 11 Tell them that as surely as I, the Sovereign Lord, am the living God, I do not enjoy seeing sinners die. I would rather see them stop sinning and live. Israel, stop the evil you are doing. Why do you want to die?
12 "Now, mortal man, tell the Israelites that when someone good sins, the good he has done will not save him. If an evil person stops doing evil, he won't be punished, and if a good man starts sinning, his life will not be spared.
Read full chapter
New International Version
10 "Son of man, say to the Israelites, 'This is what you are saying: "Our offenses and sins weigh us down, and we are wasting away(A) because of[a] them. How then can we live?(B)"' 11 Say to them, 'As surely as I live, declares the Sovereign Lord, I take no pleasure in the death of the wicked, but rather that they turn from their ways and live.(C) Turn!(D) Turn from your evil ways! Why will you die, people of Israel?'(E)
12 "Therefore, son of man, say to your people,(F) 'If someone who is righteous disobeys, that person's former righteousness will count for nothing. And if someone who is wicked repents, that person's former wickedness will not bring condemnation. The righteous person who sins will not be allowed to live even though they were formerly righteous.'(G)
Read full chapter
Good News Translation (GNT)
Copyright © 1992 by American Bible Society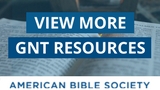 New International Version (NIV)
Holy Bible, New International Version®, NIV® Copyright ©1973, 1978, 1984, 2011 by Biblica, Inc.® Used by permission. All rights reserved worldwide.
NIV Reverse Interlinear Bible: English to Hebrew and English to Greek. Copyright © 2019 by Zondervan.