---
13 I heard also the noise of the wings of the beasts, that touched one another, and the rattling of the wheels that were by them, even a noise of a great rushing.
14 So the spirit lifted me up, and took me away, and I [a]went in bitterness and indignation of my spirit, but the hand of the Lord was strong upon me.
15 Then I came to them that were led away captives to [b]Tel Abib, that dwelt by the river Chebar, and I sat where they sat, and remained there astonished among them [c]seven days.
Read full chapter
Footnotes
Ezekiel 3:14 This showeth that there is ever an infirmity of the flesh which can never be ready to render full obedience to God, and also God's grace who ever assisteth his, and overcometh their rebellious affections.
Ezekiel 3:15 Which was a place by Euphrates, where the Jews were prisoners.
Ezekiel 3:15 Declaring hereby that God's ministers must with advisement and deliberation utter his judgments.
New International Version
13 It was the sound of the wings of the living creatures(A) brushing against each other and the sound of the wheels beside them, a loud rumbling sound.(B) 14 The Spirit(C) then lifted me up(D) and took me away, and I went in bitterness and in the anger of my spirit, with the strong hand of the Lord(E) on me. 15 I came to the exiles who lived at Tel Aviv near the Kebar River.(F) And there, where they were living, I sat among them for seven days(G)—deeply distressed.
Read full chapter
1599 Geneva Bible (GNV)
Geneva Bible, 1599 Edition. Published by Tolle Lege Press. All rights reserved. No part of this publication may be reproduced or transmitted in any form or by any means, electronic or mechanical, without written permission from the publisher, except in the case of brief quotations in articles, reviews, and broadcasts.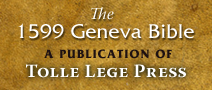 New International Version (NIV)
Copyright © 1973, 1978, 1984, 2011 by Biblica
NIV Reverse Interlinear Bible: English to Hebrew and English to Greek. Copyright © 2019 by Zondervan.