---
30 They all mourn bitterly for you,
Throwing dust on their heads and rolling in ashes.
31 They shave their heads for you
And dress themselves in sackcloth.
Their hearts are bitter as they weep.
32 They chant a funeral song for you:
'Who can be compared to Tyre,
To Tyre now silent in the sea?
Read full chapter
New International Version
30 They will raise their voice
and cry bitterly over you;
they will sprinkle dust(A) on their heads
and roll(B) in ashes.(C)
31 They will shave their heads(D) because of you
and will put on sackcloth.
They will weep(E) over you with anguish of soul
and with bitter mourning.(F)
32 As they wail and mourn over you,
they will take up a lament(G) concerning you:
"Who was ever silenced like Tyre,
surrounded by the sea?(H)"
Read full chapter
Good News Translation (GNT)
Copyright © 1992 by American Bible Society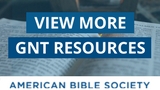 New International Version (NIV)
Holy Bible, New International Version®, NIV® Copyright ©1973, 1978, 1984, 2011 by Biblica, Inc.® Used by permission. All rights reserved worldwide.
NIV Reverse Interlinear Bible: English to Hebrew and English to Greek. Copyright © 2019 by Zondervan.