---
Amplified Bible, Classic Edition
10 Because of the great number of [Nebuchadrezzar's] horses, their dust will cover you; your walls [O Tyre] will shake at the noise of the horsemen and of the wagon wheels and of the chariots, when he enters into your gates as men enter into the city in whose walls there has been made a breach.
11 With the hoofs of his horses [Nebuchadrezzar] will trample all your streets; he will slay your people with the sword and your strong pillars or obelisks will fall to the ground.
12 And [your adversaries] shall make a spoil of your riches and make booty of your merchandise. And they shall break down your walls and destroy your pleasant houses, and they shall lay the stones and the timber and the very dust from your demolished city out in the midst of the water [between the island and the mainland city site to make a causeway].
Read full chapter
Amplified Bible, Classic Edition (AMPC)
Copyright © 1954, 1958, 1962, 1964, 1965, 1987 by The Lockman Foundation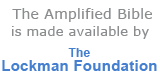 Bible Gateway Recommends
Battlefield of the Mind Bible: Renew Your Mind Through the Power of God's Word, Imitation Leather, brown - Slightly Imperfect
Retail: $79.99
Our Price: $43.99
Save: $36.00 (45%)
Amplified Outreach Bible, Paperback
Retail: $6.99
Our Price: $4.99
Save: $2.00 (29%)
Amplified Large-Print Bible--bonded leather, burgundy
Retail: $69.99
Our Price: $41.49
Save: $28.50 (41%)
Amplified Holy Bible, XL Edition--soft leather-look, burgundy
Retail: $49.99
Our Price: $31.99
Save: $18.00 (36%)
Battlefield of the Mind Bible: Renew Your Mind Through the Power of God's Word, Imitation Leather, brown
Retail: $79.99
Our Price: $54.99
Save: $25.00 (31%)

Classic Comparative Side-by-Side Bible (NIV, KJV, NASB, Amplified)
Retail: $54.99
Our Price: $35.99
Save: $19.00 (35%)