---
Amplified Bible, Classic Edition
40 For on My holy mountain, on the mountain height of Israel, says the Lord God, there all the house of Israel, all of them in the land, shall serve Me. There will I [graciously] accept them, and there will I require your offerings and the firstfruits and the choicest of your contributions, with all your sacred things.
41 I will accept you [graciously] as a pleasant odor when I lead you out from the peoples and gather you out of the countries in which you have been scattered, and I will manifest My holiness among you in the sight of the nations [who will seek Me because of My power displayed in you].(A)
42 And you shall know, understand, and realize that I am the Lord, when I bring you into the land of Israel, into the country which I lifted up My hand and swore to give to your fathers.
Read full chapter
Amplified Bible, Classic Edition (AMPC)
Copyright © 1954, 1958, 1962, 1964, 1965, 1987 by The Lockman Foundation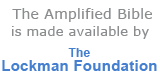 Bible Gateway Recommends
La Biblia de la Vida Diaria NVI, Enc. Rústica (NVI Everyday Life Bible, Softcover) - Slightly Imperfect
Retail: $24.99
Our Price: $13.99
Save: $11.00 (44%)
The New Everyday Life Bible: The Power of God's Word For Everyday Living
Retail: $39.99
Our Price: $27.99
Save: $12.00 (30%)

KJV and Amplified Parallel Bible, Large Print, Leathersoft, Camel/rich red
Retail: $79.99
Our Price: $52.99
Save: $27.00 (34%)
Classic Comparative Side-by-Side Bible (NIV, KJV, NASB, Amplified)
Retail: $54.99
Our Price: $35.99
Save: $19.00 (35%)
Battlefield of the Mind Bible: Renew Your Mind Through the Power of God's Word, Imitation Leather, brown
Retail: $79.99
Our Price: $53.99
Save: $26.00 (33%)
Amplified Thinline Holy Bible--bonded leather, black (indexed)
Retail: $59.99
Our Price: $38.99
Save: $21.00 (35%)