---
Contemporary English Version
11 Her strong branches
became symbols of authority,
and she was taller
than all other trees—
everyone could see how strong
and healthy she was.
12 But in anger, I pulled her up
by the roots
and threw her to the ground,
where the scorching desert wind
dried out her fruit.
Her strong branches wilted
and burned up.
13 Then she was planted
in a hot, dry desert,
Read full chapter
New International Version
11 Its branches were strong,
fit for a ruler's scepter.
It towered high
above the thick foliage,
conspicuous for its height
and for its many branches.(A)
12 But it was uprooted(B) in fury
and thrown to the ground.
The east wind(C) made it shrivel,
it was stripped of its fruit;
its strong branches withered
and fire consumed them.(D)
13 Now it is planted in the desert,(E)
in a dry and thirsty land.(F)
Read full chapter
Contemporary English Version (CEV)
Copyright © 1995 by American Bible Society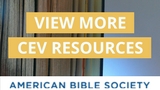 New International Version (NIV)
Holy Bible, New International Version®, NIV® Copyright ©1973, 1978, 1984, 2011 by Biblica, Inc.® Used by permission. All rights reserved worldwide.
NIV Reverse Interlinear Bible: English to Hebrew and English to Greek. Copyright © 2019 by Zondervan.