---
Moses and the Burning Bush
3 One day Moses was tending the flock of his father-in-law, Jethro,[a] the priest of Midian. He led the flock far into the wilderness and came to Sinai,[b] the mountain of God. 2 There the angel of the Lord appeared to him in a blazing fire from the middle of a bush. Moses stared in amazement. Though the bush was engulfed in flames, it didn't burn up. 3 "This is amazing," Moses said to himself. "Why isn't that bush burning up? I must go see it."
4 When the Lord saw Moses coming to take a closer look, God called to him from the middle of the bush, "Moses! Moses!"
"Here I am!" Moses replied.
5 "Do not come any closer," the Lord warned. "Take off your sandals, for you are standing on holy ground. 6 I am the God of your father[c]—the God of Abraham, the God of Isaac, and the God of Jacob." When Moses heard this, he covered his face because he was afraid to look at God.
Read full chapter
Nueva Traducción Viviente
Moisés y la zarza ardiente
3 Cierto día Moisés se encontraba apacentando el rebaño de su suegro, Jetro,[a] quien era sacerdote de Madián. Llevó el rebaño al corazón del desierto y llegó al Sinaí,[b] el monte de Dios. 2 Allí el ángel del Señor se le apareció en un fuego ardiente, en medio de una zarza. Moisés se quedó mirando lleno de asombro porque aunque la zarza estaba envuelta en llamas, no se consumía. 3 «Esto es increíble—se dijo a sí mismo—. ¿Por qué esa zarza no se consume? Tengo que ir a verla de cerca».
4 Cuando el Señor vio que Moisés se acercaba para observar mejor, Dios lo llamó desde el medio de la zarza:
—¡Moisés! ¡Moisés!
—Aquí estoy—respondió él.
5 —No te acerques más—le advirtió el Señor—. Quítate las sandalias, porque estás pisando tierra santa. 6 Yo soy el Dios de tu padre,[c] el Dios de Abraham, el Dios de Isaac y el Dios de Jacob.
Cuando Moisés oyó esto, se cubrió el rostro porque tenía miedo de mirar a Dios.
Read full chapter
New Living Translation (NLT)
Holy Bible, New Living Translation, copyright © 1996, 2004, 2015 by Tyndale House Foundation. Used by permission of Tyndale House Publishers, Inc., Carol Stream, Illinois 60188. All rights reserved.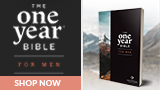 Nueva Traducción Viviente (NTV)
La Santa Biblia, Nueva Traducción Viviente, © Tyndale House Foundation, 2010. Todos los derechos reservados.