---
7 ¶ Then the Lord said, I have surely seen the trouble of my people, which are in Egypt, and have heard their cry, because of their [a]taskmasters: for I know their sorrows.
8 Therefore I am come down to deliver them out of the hand of the Egyptians, and to bring them out of that land into a good land and a large, into a land that [b]floweth with milk and honey, even into the place of the Canaanites, and the Hittites, and the Amorites, and the Perizzites, and the Hivites, and the Jebusites.
9 [c]And now lo, the cry of the children of Israel is come unto me, and I have also seen the oppression wherewith the Egyptians oppress them.
Read full chapter
New International Version
7 The Lord said, "I have indeed seen(A) the misery(B) of my people in Egypt. I have heard them crying out because of their slave drivers, and I am concerned(C) about their suffering.(D) 8 So I have come down(E) to rescue them from the hand of the Egyptians and to bring them up out of that land into a good and spacious land,(F) a land flowing with milk and honey(G)—the home of the Canaanites, Hittites, Amorites, Perizzites, Hivites(H) and Jebusites.(I) 9 And now the cry of the Israelites has reached me, and I have seen the way the Egyptians are oppressing(J) them.
Read full chapter
1599 Geneva Bible (GNV)
Geneva Bible, 1599 Edition. Published by Tolle Lege Press. All rights reserved. No part of this publication may be reproduced or transmitted in any form or by any means, electronic or mechanical, without written permission from the publisher, except in the case of brief quotations in articles, reviews, and broadcasts.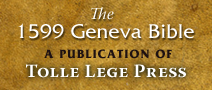 New International Version (NIV)
Holy Bible, New International Version®, NIV® Copyright ©1973, 1978, 1984, 2011 by Biblica, Inc.® Used by permission. All rights reserved worldwide.
NIV Reverse Interlinear Bible: English to Hebrew and English to Greek. Copyright © 2019 by Zondervan.