---
Amplified Bible, Classic Edition
22 And also let the priests, who come near to the Lord, sanctify (set apart) themselves [for God], lest the Lord break forth against them.
23 And Moses said to the Lord, The people cannot come up to Mount Sinai, for You Yourself charged us, saying, Set bounds about the mountain and sanctify it [set it apart for God].
24 Then the Lord said to him, Go, get down and you shall come up, you and Aaron with you; but let not the priests and the people break through to come up to the Lord, lest He break forth against them.
Read full chapter
Amplified Bible, Classic Edition (AMPC)
Copyright © 1954, 1958, 1962, 1964, 1965, 1987 by The Lockman Foundation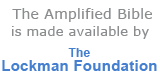 Bible Gateway Recommends
Amplified Reading Bible, Imitation Leather, Brown
Retail: $49.99
Our Price: $31.99
Save: $18.00 (36%)
Amplified Large-Print Bible, hardcover
Retail: $34.99
Our Price: $22.49
Save: $12.50 (36%)
Everyday Life Bible: The Power of God's Word for Everyday Living--soft leather-look, teal
Retail: $79.99
Our Price: $53.99
Save: $26.00 (33%)
Amplified Study Bible, Large Print, Imitation Leather, Brown
Retail: $69.99
Our Price: $43.49
Save: $26.50 (38%)
The Amplified Study Bible, eBook - eBook
Our Price: $14.99
Classic Comparative Side-by-Side Bible (NIV, KJV, NASB, Amplified) , Bonded Leather
Retail: $89.99
Our Price: $57.99
Save: $32.00 (36%)