---
Amplified Bible, Classic Edition
20 Teaching them the decrees and laws, showing them the way they must walk and the work they must do.
21 Moreover, you shall choose able men from all the people—God-fearing men of truth who hate unjust gain—and place them over thousands, hundreds, fifties, and tens, to be their rulers.
22 And let them judge the people at all times; every great matter they shall bring to you, but every small matter they shall judge. So it will be easier for you, and they will bear the burden with you.
Read full chapter
Amplified Bible, Classic Edition (AMPC)
Copyright © 1954, 1958, 1962, 1964, 1965, 1987 by The Lockman Foundation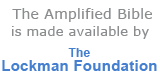 Bible Gateway Recommends
KJV and Amplified Parallel Bible, Large Print, Bonded Leather, Black
Retail: $79.99
Our Price: $53.99
Save: $26.00 (33%)

Amplified Bible, Battlefield Of The Mind Bible, Imitation Leather, Blue
Retail: $79.99
Our Price: $53.99
Save: $26.00 (33%)

Everyday Life Bible: The Power Of God's Word For Everyday Living, Imitation Leather, pewter
Retail: $79.99
Our Price: $53.99
Save: $26.00 (33%)
Amplified Holy Bible, softcover - Slightly Imperfect
Retail: $19.99
Our Price: $10.19
Save: $9.80 (49%)
Amplified Reading Bible, Hardcover
Retail: $34.99
Our Price: $22.99
Save: $12.00 (34%)