---
26 ¶ Then the Lord said to Moses, Stretch thine hand upon the Sea, that the waters may return upon the Egyptians, upon their chariots and upon their horsemen.
27 Then Moses stretched forth his hand upon the Sea, and the Sea returned to his force early in the morning, and the Egyptians fled against it: but the Lord [a]overthrew the Egyptians in the midst of the Sea.
28 So the water returned and covered the chariots, and the horsemen, even all the host of Pharaoh that came into the Sea after them: there remained not one of them.
Read full chapter
Footnotes
Exodus 14:27 So the Lord by the water saved his, and by the water drowned his enemies.
New International Version
26 Then the Lord said to Moses, "Stretch out your hand over the sea so that the waters may flow back over the Egyptians and their chariots and horsemen." 27 Moses stretched out his hand over the sea, and at daybreak the sea went back to its place.(A) The Egyptians were fleeing toward[a] it, and the Lord swept them into the sea.(B) 28 The water flowed back and covered the chariots and horsemen—the entire army of Pharaoh that had followed the Israelites into the sea.(C) Not one of them survived.(D)
Read full chapter
1599 Geneva Bible (GNV)
Geneva Bible, 1599 Edition. Published by Tolle Lege Press. All rights reserved. No part of this publication may be reproduced or transmitted in any form or by any means, electronic or mechanical, without written permission from the publisher, except in the case of brief quotations in articles, reviews, and broadcasts.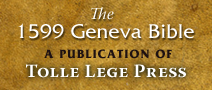 New International Version (NIV)
Holy Bible, New International Version®, NIV® Copyright ©1973, 1978, 1984, 2011 by Biblica, Inc.® Used by permission. All rights reserved worldwide.
NIV Reverse Interlinear Bible: English to Hebrew and English to Greek. Copyright © 2019 by Zondervan.