---
44 But every servant that is bought for money, when thou hast circumcised him, then shall he eat thereof.
45 A stranger or an hired servant shall not eat thereof.
46 (A)In one house shall it be eaten: thou shalt carry none of the flesh out of the house, (B)neither shall ye break a bone thereof.
Read full chapter
New International Version
44 Any slave you have bought may eat it after you have circumcised(A) him, 45 but a temporary resident or a hired worker(B) may not eat it.
46 "It must be eaten inside the house; take none of the meat outside the house. Do not break any of the bones.(C)
Read full chapter
1599 Geneva Bible (GNV)
Geneva Bible, 1599 Edition. Published by Tolle Lege Press. All rights reserved. No part of this publication may be reproduced or transmitted in any form or by any means, electronic or mechanical, without written permission from the publisher, except in the case of brief quotations in articles, reviews, and broadcasts.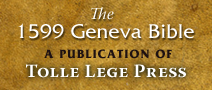 New International Version (NIV)
Holy Bible, New International Version®, NIV® Copyright ©1973, 1978, 1984, 2011 by Biblica, Inc.® Used by permission. All rights reserved worldwide.
NIV Reverse Interlinear Bible: English to Hebrew and English to Greek. Copyright © 2019 by Zondervan.