---
The Victory of the Jews
9 So on March 7[a] the two decrees of the king were put into effect. On that day, the enemies of the Jews had hoped to overpower them, but quite the opposite happened. It was the Jews who overpowered their enemies. 2 The Jews gathered in their cities throughout all the king's provinces to attack anyone who tried to harm them. But no one could make a stand against them, for everyone was afraid of them. 3 And all the nobles of the provinces, the highest officers, the governors, and the royal officials helped the Jews for fear of Mordecai. 4 For Mordecai had been promoted in the king's palace, and his fame spread throughout all the provinces as he became more and more powerful.
5 So the Jews went ahead on the appointed day and struck down their enemies with the sword. They killed and annihilated their enemies and did as they pleased with those who hated them. 6 In the fortress of Susa itself, the Jews killed 500 men. 7 They also killed Parshandatha, Dalphon, Aspatha, 8 Poratha, Adalia, Aridatha, 9 Parmashta, Arisai, Aridai, and Vaizatha— 10 the ten sons of Haman son of Hammedatha, the enemy of the Jews. But they did not take any plunder.
11 That very day, when the king was informed of the number of people killed in the fortress of Susa, 12 he called for Queen Esther. He said, "The Jews have killed 500 men in the fortress of Susa alone, as well as Haman's ten sons. If they have done that here, what has happened in the rest of the provinces? But now, what more do you want? It will be granted to you; tell me and I will do it."
13 Esther responded, "If it please the king, give the Jews in Susa permission to do again tomorrow as they have done today, and let the bodies of Haman's ten sons be impaled on a pole."
14 So the king agreed, and the decree was announced in Susa. And they impaled the bodies of Haman's ten sons. 15 Then the Jews at Susa gathered together on March 8[b] and killed 300 more men, and again they took no plunder.
16 Meanwhile, the other Jews throughout the king's provinces had gathered together to defend their lives. They gained relief from all their enemies, killing 75,000 of those who hated them. But they did not take any plunder. 17 This was done throughout the provinces on March 7, and on March 8 they rested,[c] celebrating their victory with a day of feasting and gladness. 18 (The Jews at Susa killed their enemies on March 7 and again on March 8, then rested on March 9,[d] making that their day of feasting and gladness.) 19 So to this day, rural Jews living in remote villages celebrate an annual festival and holiday on the appointed day in late winter,[e] when they rejoice and send gifts of food to each other.
The Festival of Purim
20 Mordecai recorded these events and sent letters to the Jews near and far, throughout all the provinces of King Xerxes, 21 calling on them to celebrate an annual festival on these two days.[f] 22 He told them to celebrate these days with feasting and gladness and by giving gifts of food to each other and presents to the poor. This would commemorate a time when the Jews gained relief from their enemies, when their sorrow was turned into gladness and their mourning into joy.
23 So the Jews accepted Mordecai's proposal and adopted this annual custom. 24 Haman son of Hammedatha the Agagite, the enemy of the Jews, had plotted to crush and destroy them on the date determined by casting lots (the lots were called purim). 25 But when Esther came before the king, he issued a decree causing Haman's evil plot to backfire, and Haman and his sons were impaled on a sharpened pole. 26 That is why this celebration is called Purim, because it is the ancient word for casting lots.
So because of Mordecai's letter and because of what they had experienced, 27 the Jews throughout the realm agreed to inaugurate this tradition and to pass it on to their descendants and to all who became Jews. They declared they would never fail to celebrate these two prescribed days at the appointed time each year. 28 These days would be remembered and kept from generation to generation and celebrated by every family throughout the provinces and cities of the empire. This Festival of Purim would never cease to be celebrated among the Jews, nor would the memory of what happened ever die out among their descendants.
29 Then Queen Esther, the daughter of Abihail, along with Mordecai the Jew, wrote another letter putting the queen's full authority behind Mordecai's letter to establish the Festival of Purim. 30 Letters wishing peace and security were sent to the Jews throughout the 127 provinces of the empire of Xerxes. 31 These letters established the Festival of Purim—an annual celebration of these days at the appointed time, decreed by both Mordecai the Jew and Queen Esther. (The people decided to observe this festival, just as they had decided for themselves and their descendants to establish the times of fasting and mourning.) 32 So the command of Esther confirmed the practices of Purim, and it was all written down in the records.
Paul's Message of Wisdom
2 When I first came to you, dear brothers and sisters,[a] I didn't use lofty words and impressive wisdom to tell you God's secret plan.[b] 2 For I decided that while I was with you I would forget everything except Jesus Christ, the one who was crucified. 3 I came to you in weakness—timid and trembling. 4 And my message and my preaching were very plain. Rather than using clever and persuasive speeches, I relied only on the power of the Holy Spirit. 5 I did this so you would trust not in human wisdom but in the power of God.
6 Yet when I am among mature believers, I do speak with words of wisdom, but not the kind of wisdom that belongs to this world or to the rulers of this world, who are soon forgotten. 7 No, the wisdom we speak of is the mystery of God[c]—his plan that was previously hidden, even though he made it for our ultimate glory before the world began. 8 But the rulers of this world have not understood it; if they had, they would not have crucified our glorious Lord. 9 That is what the Scriptures mean when they say,
"No eye has seen, no ear has heard,
and no mind has imagined
what God has prepared
for those who love him."[d]
10 But[e] it was to us that God revealed these things by his Spirit. For his Spirit searches out everything and shows us God's deep secrets. 11 No one can know a person's thoughts except that person's own spirit, and no one can know God's thoughts except God's own Spirit. 12 And we have received God's Spirit (not the world's spirit), so we can know the wonderful things God has freely given us.
13 When we tell you these things, we do not use words that come from human wisdom. Instead, we speak words given to us by the Spirit, using the Spirit's words to explain spiritual truths.[f] 14 But people who aren't spiritual[g] can't receive these truths from God's Spirit. It all sounds foolish to them and they can't understand it, for only those who are spiritual can understand what the Spirit means. 15 Those who are spiritual can evaluate all things, but they themselves cannot be evaluated by others. 16 For,
"Who can know the Lord's thoughts?
Who knows enough to teach him?"[h]
But we understand these things, for we have the mind of Christ.
New Living Translation (NLT)
Holy Bible, New Living Translation, copyright © 1996, 2004, 2015 by Tyndale House Foundation. Used by permission of Tyndale House Publishers, Inc., Carol Stream, Illinois 60188. All rights reserved.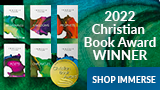 Bible Gateway Recommends
NLT Gospel of John, pack of 10
Retail: $11.99
Our Price: $9.99
Save: $2.00 (17%)

NLT One Year Chronological Bible, Large Print Softcover
Retail: $22.99
Our Price: $15.99
Save: $7.00 (30%)

NLT Premium Gift Bible--soft leather-look, blue
Retail: $15.99
Our Price: $11.99
Save: $4.00 (25%)

NLT Super Giant Print Bible, Filament Enabled Edition (Red Letter, LeatherLike, Brown)
Retail: $59.99
Our Price: $39.99
Save: $20.00 (33%)
NLT Large-Print Premium Value Thinline Bible, Filament Enabled Edition--soft leather-look, pink
Retail: $19.99
Our Price: $15.99
Save: $4.00 (20%)

NLT Boys Life Application Study Bible, LeatherLike, Midnight/Blue
Retail: $49.99
Our Price: $36.99
Save: $13.00 (26%)