---
Contemporary English Version
9 Life is short, and you love your wife, so enjoy being with her. This is what you are supposed to do as you struggle through life on this earth. 10 Work hard at whatever you do. You will soon go to the world of the dead, where no one works or thinks or reasons or knows anything.
11 Here is something else I have learned:
The fastest runners
and the greatest heroes
don't always win races
and battles.
Wisdom, intelligence, and skill
don't always make you healthy,
rich, or popular.
We each have our share
of bad luck.
Read full chapter
New International Version
9 Enjoy life with your wife,(A) whom you love, all the days of this meaningless life that God has given you under the sun—all your meaningless days. For this is your lot(B) in life and in your toilsome labor under the sun. 10 Whatever(C) your hand finds to do, do it with all your might,(D) for in the realm of the dead,(E) where you are going, there is neither working nor planning nor knowledge nor wisdom.(F)
11 I have seen something else under the sun:
Read full chapter
Contemporary English Version (CEV)
Copyright © 1995 by American Bible Society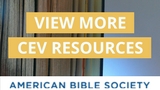 New International Version (NIV)
Holy Bible, New International Version®, NIV® Copyright ©1973, 1978, 1984, 2011 by Biblica, Inc.® Used by permission. All rights reserved worldwide.
NIV Reverse Interlinear Bible: English to Hebrew and English to Greek. Copyright © 2019 by Zondervan.