---
Amplified Bible, Classic Edition
20 All go to one place; all are of the dust, and all turn to dust again.
21 Who knows the spirit of man, whether it goes upward, and the spirit of the beast, whether it goes downward to the earth?
22 So I saw that there is nothing better than that a man should rejoice in his own works, for that is his portion. For who shall bring him back to see what will happen after he is gone?
Read full chapter
Amplified Bible, Classic Edition (AMPC)
Copyright © 1954, 1958, 1962, 1964, 1965, 1987 by The Lockman Foundation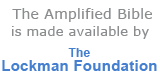 Bible Gateway Recommends
NKJV Amplified Parallel Bible Hardcover Large Print
Retail: $39.95
Our Price: $22.99
Save: $16.96 (42%)
KJV and Amplified Parallel Bible, Large Print, Leathersoft, Camel/rich red
Retail: $79.99
Our Price: $43.99
Save: $36.00 (45%)

Amplified Bible, Battlefield Of The Mind Bible, Imitation Leather, Blue
Retail: $79.99
Our Price: $53.99
Save: $26.00 (33%)
Classic Comparative Side-by-Side Bible
Retail: $99.99
Our Price: $64.99
Save: $35.00 (35%)

Classic Comparative Side-by-Side Bible (NIV, KJV, NASB, Amplified)
Retail: $54.99
Our Price: $32.99
Save: $22.00 (40%)
Amplified Reading Bible, Imitation Leather, Brown, Indexed
Retail: $59.99
Our Price: $35.99
Save: $24.00 (40%)