---
Amplified Bible, Classic Edition
7 Then shall the dust [out of which God made man's body] return to the earth as it was, and the spirit shall return to God Who gave it.
8 Vapor of vapors and futility of futilities, says the Preacher. All is futility (emptiness, falsity, vainglory, and transitoriness)!
9 And furthermore, because the Preacher was wise, he [Solomon] still taught the people knowledge; and he pondered and searched out and set in order many proverbs.
Read full chapter
Amplified Bible, Classic Edition (AMPC)
Copyright © 1954, 1958, 1962, 1964, 1965, 1987 by The Lockman Foundation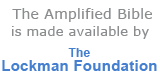 Bible Gateway Recommends
Battlefield of the Mind New Testament--soft leather-look, arcadia blue
Retail: $24.99
Our Price: $17.49
Save: $7.50 (30%)

The Amplified Study Bible, eBook - eBook
Our Price: $14.99

Everyday Life Bible: The Power Of God's Word For Everyday Living, Imitation Leather, pewter
Retail: $79.99
Our Price: $53.99
Save: $26.00 (33%)

Classic Comparative Side-by-Side Bible (NIV, KJV, NASB, Amplified) , Bonded Leather
Retail: $89.99
Our Price: $52.99
Save: $37.00 (41%)
Amplified Holy Bible, hardcover
Retail: $29.99
Our Price: $17.99
Save: $12.00 (40%)

Amplified Study Bible, Large Print, Imitation Leather, Brown
Retail: $69.99
Our Price: $41.99
Save: $28.00 (40%)