---
True and False Prophets
15 Moses continued, "The Lord your God will raise up for you a prophet like me from among your fellow Israelites. You must listen to him. 16 For this is what you yourselves requested of the Lord your God when you were assembled at Mount Sinai.[a] You said, 'Don't let us hear the voice of the Lord our God anymore or see this blazing fire, for we will die.'
17 "Then the Lord said to me, 'What they have said is right. 18 I will raise up a prophet like you from among their fellow Israelites. I will put my words in his mouth, and he will tell the people everything I command him. 19 I will personally deal with anyone who will not listen to the messages the prophet proclaims on my behalf.
Read full chapter
Footnotes
18:16 Hebrew Horeb, another name for Sinai.
37 "Moses himself told the people of Israel, 'God will raise up for you a Prophet like me from among your own people.'[a] 38 Moses was with our ancestors, the assembly of God's people in the wilderness, when the angel spoke to him at Mount Sinai. And there Moses received life-giving words to pass on to us.[b]
Read full chapter
Footnotes
7:38 Some manuscripts read to you.
51 "You stubborn people! You are heathen[a] at heart and deaf to the truth. Must you forever resist the Holy Spirit? That's what your ancestors did, and so do you! 52 Name one prophet your ancestors didn't persecute! They even killed the ones who predicted the coming of the Righteous One—the Messiah whom you betrayed and murdered. 53 You deliberately disobeyed God's law, even though you received it from the hands of angels."
Read full chapter
Footnotes
7:51 Greek uncircumcised.
New Living Translation (NLT)
Holy Bible, New Living Translation, copyright © 1996, 2004, 2015 by Tyndale House Foundation. Used by permission of Tyndale House Publishers, Inc., Carol Stream, Illinois 60188. All rights reserved.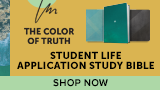 Bible Gateway Recommends
My First Hands-On Bible
Retail: $16.99
Our Price: $10.99
Save: $6.00 (35%)

NLT Inspire FAITH Bible, Filament Enabled Edition, LeatherLike, Pink Watercolor Garden
Retail: $74.99
Our Price: $48.49
Save: $26.50 (35%)
NLT Life Application Study Bible, Third Edition--hardcover, red letter
Retail: $49.99
Our Price: $34.99
Save: $15.00 (30%)
NLT Inspire FAITH Bible, Filament Enabled Edition, Hardcover LeatherLike, Coral Blooms
Retail: $64.99
Our Price: $51.99
Save: $13.00 (20%)
NLT Life Application Large-Print Study Bible, Third Edition--soft leather-look, brown, mahogan, red letter (indexed)
Retail: $94.99
Our Price: $69.99
Save: $25.00 (26%)
NLT Spiritual Growth Bible--soft leather-look, cream floral
Retail: $49.99
Our Price: $36.99
Save: $13.00 (26%)