---
Amplified Bible, Classic Edition
19 But your wives and your little ones and your cattle—I know that you have many cattle—shall remain in your cities which I have given you,
20 Until the Lord has given rest to your brethren as to you, and until they also possess the land which the Lord your God has given them beyond the Jordan. Then shall you return every man to the possession which I have given you.
21 And I commanded Joshua at that time, saying, Your own eyes have seen all that the Lord your God has done to these two kings [Sihon and Og]; so shall the Lord do to all the kingdoms into which you are going over [the Jordan].
Read full chapter
Amplified Bible, Classic Edition (AMPC)
Copyright © 1954, 1958, 1962, 1964, 1965, 1987 by The Lockman Foundation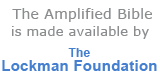 Bible Gateway Recommends
Amplified & NKJV Parallel Bible Bonded Leather, Black, Large Print
Retail: $69.95
Our Price: $39.99
Save: $29.96 (43%)

KJV and Amplified Parallel Bible, Large Print, Leathersoft, Camel/rich red
Retail: $79.99
Our Price: $52.99
Save: $27.00 (34%)

Amplified Large-Print Bible, hardcover
Retail: $34.99
Our Price: $22.49
Save: $12.50 (36%)
The Amplified Topical Reference Bible, Hardcover
Retail: $39.99
Our Price: $17.99
Save: $22.00 (55%)

Amplified Bible, Large Print leather-look, brown/dark brown- index
Retail: $79.99
Our Price: $52.99
Save: $27.00 (34%)

Battlefield of the Mind Bible: Renew Your Mind Through the Power of God's Word, Imitation Leather, pink
Retail: $79.99
Our Price: $53.99
Save: $26.00 (33%)