---
Amplified Bible, Classic Edition
15 Look down from Your holy habitation, from heaven, and bless Your people Israel and the land which You have given us as You swore to our fathers, a land flowing with milk and honey.
16 This day the Lord your God has commanded you to do these statutes and ordinances. Therefore you shall keep and do them with all your [mind and] heart and with all your being.
17 You have [openly] declared the Lord this day to be your God, [pledging] to walk in His ways, to keep His statutes and His commandments and His precepts, and to hearken to His voice.
Read full chapter
Amplified Bible, Classic Edition (AMPC)
Copyright © 1954, 1958, 1962, 1964, 1965, 1987 by The Lockman Foundation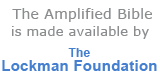 Bible Gateway Recommends
NKJV Amplified Parallel Large-Print Bible Flexisoft, Blue/Brown
Retail: $79.95
Our Price: $46.99
Save: $32.96 (41%)

Amplified Reading Bible, Imitation Leather, Brown, Indexed
Retail: $59.99
Our Price: $38.99
Save: $21.00 (35%)
Everyday Life Bible: The Power Of God's Word For Everyday Living, Imitation Leather, pewter
Retail: $79.99
Our Price: $53.99
Save: $26.00 (33%)
KJV and Amplified Parallel Bible, Large Print, Bonded Leather, Black
Retail: $79.99
Our Price: $53.99
Save: $26.00 (33%)

Amplified Compact Holy Bible, hardcover
Retail: $14.99
Our Price: $9.99
Save: $5.00 (33%)